The Process 2.0: The Sixer's Guide to the Offseason
Photo by Mitchell Leff/Getty Images
Writing about the Sixer's offseason is not what I wanted to be doing on May 14th, but here I am. Two days removed from the Philadelphia 76ers being eliminated from the NBA playoffs, we are once again looking ahead to an offseason full of difficult decisions to be made by Daryl Morey and the Sixers front office. I'm going to break down a few options I believe the team has to choose from this offseason. I'll let you be the judge of which one you think would be best. First, here's where the Sixers stand in terms of current contracts and free agents courtesy of
Harden has a player option that he can decide what to do with. Here are his options according to Bryan Toporek over at
Harden earned roughly $44.3 million this past season, so if he declines his option, he'd be able to sign a five-year, $269.9 million max deal with a starting salary around $46.5 million. If he picks up the $47.4 million option, he'll be eligible to sign a four-year, $223 million extension on Aug. 10, the six-month anniversary of his trade to Philadelphia.
Other than that there's not really any money coming off the books by way of expiring deals. I'm just going to assume Thybulle, Maxey, and Shake's team options will be picked up. It will be interesting to see if they give Matisse any form of extension this off-season. Now onto the options as I see them.
Option 1: Status Quo
Given the fact that everyone is under contract outside of Harden, the easiest and most simplistic path forward would be to lock Harden up long-term and roll into next year with a very familiar looking roster. Two key questions to be answered then would be at SG, and finding a big to replace the departing Paul Millsap and Deandre Jordan. Danny Green tore his ACL in game 6, and could very well decide he's satisfied with the career he's had and toss his shoes over the wire. If he does decide to rehab and come back, he will miss much of next season at minimum. Thybulle will have to take on a much more critical role and up his offensive production. Maybe you could get a guy like Donte DiVincenzo on the cheaper side, but he is a RFA which always complicates things. As for a backup big you can really choose from any of the cheaper options on the market, they all really have the same skillsets.
The status quo option is the easier route to take, but I don't see it leading to anything more than what we saw this year. This option relies heavily on Joel staying healthy enough to make it through a playoff run and carrying this team. I believe that is too much of a gamble to take at this point.
Option 2: A Retool
A retool in which Harden does not return and in a perfect world could be the centerpiece of a sign and trade deal like we saw with Miami and Jimmy butler a few years ago. A few potential players the Sixers could target are:
Donovan Mitchell
Bradley Beal
Damian Lillard
Donovan Mitchell has 4 years/$133 million left on his contract with Utah. Assuming he wants out of Utah, the Sixers would be a great place for him to go. Bigger market and he and Embiid would make an electric duo. Maxey could move to his natural position at point guard and Mitchell would slide in at the 2. Utah is built to win now and would likely entertain a package centered around Harden in return. I'm not sure how into this deal Harden would be, but at this point I think he cares more about getting the money than he does about anything else. I personally would love to see the spider in Philly and think this is the best option of all for the Sixers to explore.
Bradley Beal is a free agent this offseason and likely looking to put his days in Washington behind him. Beal is one of the most electric scorers in the league, and is the exact player the Sixers need to take some of the pressure off Embiid's shoulders. Given the Sixers don't have the cap space to sign him outright, this would have to be a sign and trade. I don't see Harden going for this deal, so a package surrounding Tobias Harris would be needed to make this work financially.
Lastly we have Damian Lillard. I've written many blogs already about why I think Damian Lillard should try to force his way to Philly. While it may just be me trying to manifest one of my favorite players on my favorite team, I do think a deal between the two teams makes a lot of sense. The Blazers are embracing a rebuild, and I'm not sure a now 31 year old Damian Lillard on a massive contract fits into that plan. Everyone is aware of Damian's loyalty to the city of Portland, it's one of the reasons I respect him so much in an age when most stars are changing teams every few years. However, there comes a time when you have to realize the franchise has failed to build around you for too long and it's time to find greener pastures. I believe now is that time for Dame. A deal here should be relatively simple, but could be painful. I believe the deal would center around either Harden or Tobias for financial reasons, and Tyrese Maxey to add the value Portland requires to make the deal. Anfernee Simons is an emerging star for Portland and I think they would love to pair him with Maxey. This is just an idea and I'll let you decide whether you'd rather see the Sixers stick with Maxey, or potentially deal him for one of the best players in this league.
Option 3: The Process 2.0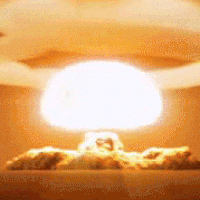 BLOW IT UP. Everyone is available except Tyrese Maxey. Yes that includes Joel Embiid. Outside of Option 2 this is my preferred choice. Option 1 guarantees the Sixers don't advance past Round 2 again, and Option 2 only slightly improves their chances. I love Joel Embiid, he's made basketball fun again in the city of Philadelphia and he's one of the best players in the league. However, he's too unreliable to stay healthy and his style of play is not sustainable. For anyone over 7 foot in the NBA health is always the biggest concern. These players typically don't last long, especially when you have the weight and physical play style Embiid has. If I got a nickel for every-time I saw Embiid hitting the deck, I'd be writing this blog from my yacht. Injury once again hampered our playoff run this year and even when remaining relatively healthy in the regular season he only played in 68 games. Now is the time to trade him for maximum return. Coming off a season where he was the runner up for MVP his value will likely never be higher. This would be a chance to get out from under Tobias Harris's contract as well. This will be no easy feat, but it would be a huge relief. I have nothing against Tobias as a person or a player, he's just come at too high of a price to this organization, both financially and in terms of the talent we've lost for him (Jimmy Butler). This option is the most painful of the three I've laid out, but it's one that should be seriously considered for the long-term prospects of the organization. Sometimes things don't pan out as you've planned, and from the looks of it, it appears V1 of The Process has failed. Sorry Sam.