Brandon Sloter/Icon Sportswire
The Phillies are the same team this year as they have been for the past several years. A .500 baseball team, no better and no worse. Prone to stretches of good hitting, starting pitching, and bullpen play, but never to have all three working in unison. A team prone to scoring only 3 runs in 33 innings, getting shut out in 2 of 3 as they were against the Padres. A series where pitching only allowed 5 runs in 3 games, the Phils could only manage to win 1 of 3. As I said before, we can have hitting or pitching, but never both at once. Now on the verge of being swept by the Dodgers this afternoon, the team is 1-4 since returning home from their West Coast swing in which they went 5-2. A level of inconsistency not uncommon of Phillies teams over the past couple years. The reason this team is destined to be a .500 team once again.
The solutions to the problems of mediocrity and inconsistency are multi-layered. As for the offensive woes, it's clear this offense lives and dies with the bat of Bryce Harper. With his multi-game absence the past week the offense completely stalled, getting shut out twice. There's a reason MV3 was just that last year, he is the team. One major issue I have had thus far with the offense is Joe Girardi's constant changing of the lineup. Very rarely is the same lineup in place two nights in a row. I understand injuries and defensive rotations dictate much of the decision making process here, especially with Bryce having to be full-time DH due to injury, but it's been near impossible for any of the bats to fall into any sort of rhythm. Aside from Bryce being slotted into the 3 hole and Castellanos at the 4, the rest of the lineup is like a game of whack-a-mole. You never know where everyone else is going to pop up on any given night. The lineup is also built to live and die by the long ball. If the ball is flying life is good. It doesn't help that guys like JT are having lackluster years so far and others like Schwarber have played very inconsistently.
As for pitching it's the usual, bullpen, bullpen, bullpen. Combined the starters and pen have the 9th worst ERA in the Majors. Starting pitching has been solid enough most nights. Wheeler, Nola, and Gibson have started to get it going. The issue is on the rare night the offense gives them a lead, you send the pen in and it's a coin toss whether you'll hold the lead. Regardless of if it's a 1 run lead, or a 7 run lead, nothing is safe.
This is exactly how I feel every time I see Alverado or someone else from the pen coming in.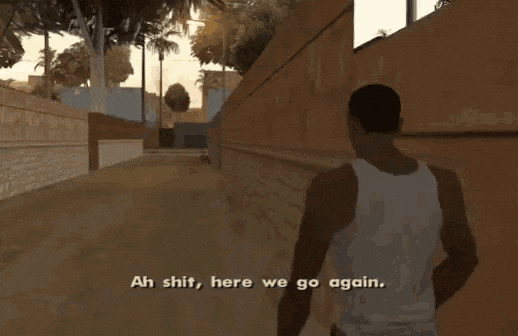 You know exactly what's about to happen.
Overall we need bullpen help at the minimum. At this point I think a management change is due as well. Girardi doesn't appear to inspire this team at all. His constant fiddling with the lineup and more than questionable bullpen decisions on a nightly basis are more than enough to warrant some discussion about his job security. With a roster this talented that has remained relatively healthy thus far, there is no reason to be sitting at 18-22 at this point in the season. Like I said earlier, maybe hovering around .500 is just our destiny.